Film Screening and Panel Discussion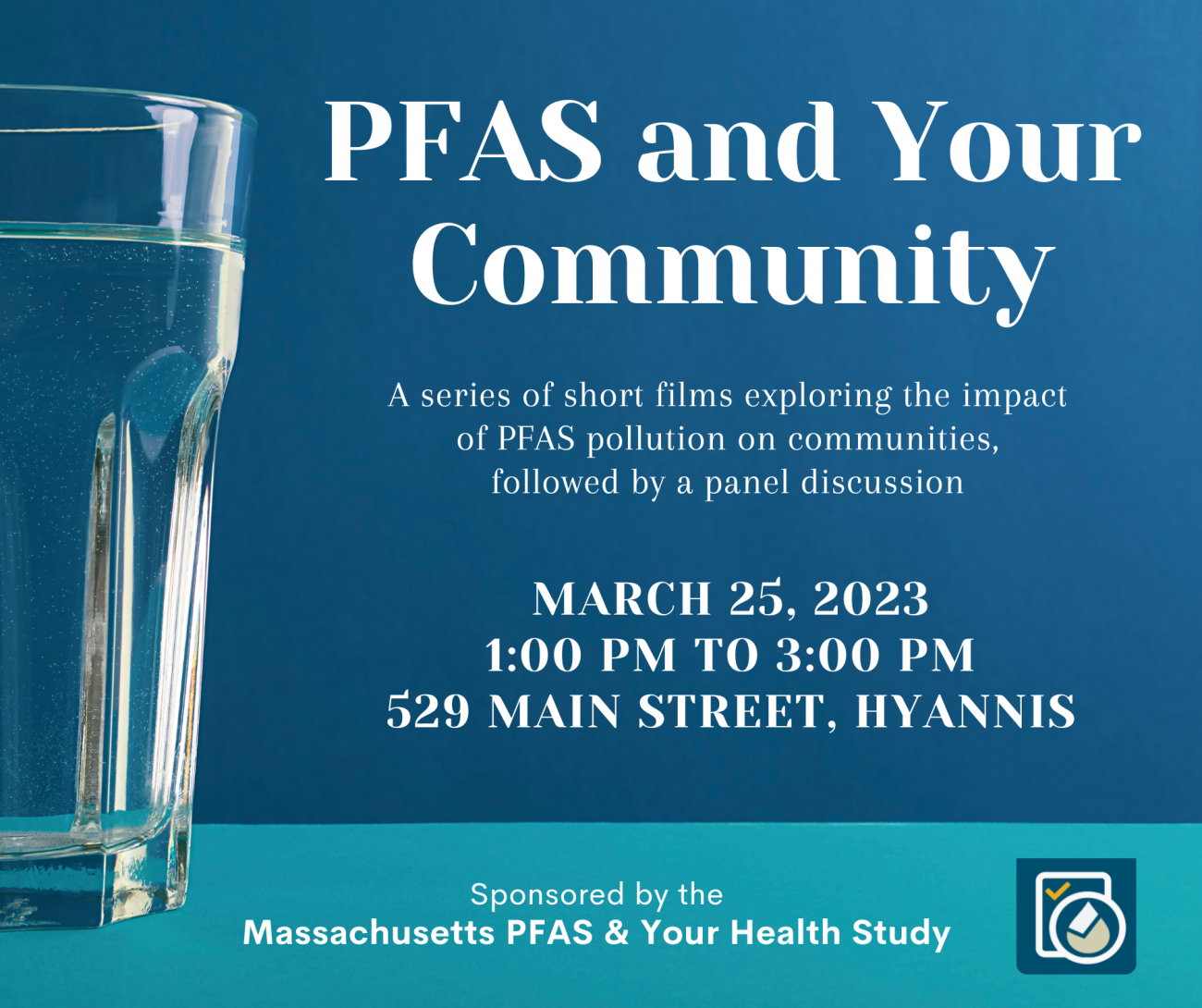 The Barnstable Youth Commission, Barnstable High School Green Club, and Sturgis East Environmental Club present: 
PFAS and Your Community: 

A series of short films exploring the impact of PFAS pollution on communities
When: March 25, 2023, 1:00 PM to 3:00 PM
Where: Sturgis Charter Public School Community Center, 529 Main Street, Hyannis, MA
Opening remarks:
Cheryl Osimo, Executive Director, Massachusetts Breast Cancer Coalition
Featured films:
"PFAS: The secret toxins in your body" – German multimedia reporter Tim Schauenberg explores the history and pervasiveness of PFAS chemicals and what people can do to protect themselves (Deutsche Welle, Planet A).
"Forever chemicals: The threat of PFAS in our water" – CBS Sunday Morning correspondent Lee Cowan looks at how the chemicals got here, and talks with families, farmers, and health advocates fighting for clean, safe water.
Panel discussion with:
Julian Cyr, Massachusetts State Senator

Mark Ells, 

Town Manager, Town of Barnstable
Keith Lewison, Cape Cod Academy and Sierra Club Cape Cod & Islands Group

Betty Ludtke, Barnstable Town Councilor

Dan Santos, Director, Barnstable Department of Public Works

Dr. Laurel Schaider, Senior Scientist, Silent Spring Institute

Betsy Young, President, Greater Hyannis Civic Association
Sponsored by the Massachusetts PFAS & Your Health Study.