Healthier Living with Detox Me Mobile App
February 21, 2016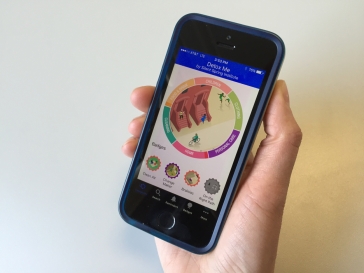 In January, Silent Spring Institute successfully launched its new mobile app Detox Me, a personalized guide that helps consumers lead a healthier life by reducing their exposure to toxic chemicals. Already, the app has received several thousand downloads and was recently featured in the Huffington Post.
"The response has been really positive," says Jessica Helm, a postdoctoral research fellow at Silent Spring who created Detox Me. Compared with other healthy-lifestyle apps that rate consumer products based on the chemicals listed on their labels, Detox Me guides users to make simple changes in their daily behaviors to help them reduce their exposures.
As Helm points out, lots of products contain harmful chemicals that aren't listed, and many products don't list any ingredients at all. "Also, there's a whole host of behaviors and activities—like how we store our food or clean our homes—that  increase our exposure to everyday chemicals, yet have little to do with the products we purchase," she says. "We wanted to give consumers a more holistic perspective on how to avoid toxics because, in reality, it's about what you do, not just what you buy."
Detox Me contains 270 tips, organized into 6 different categories—home, dining, clothes, personal care, cleaning, and children. For example, one tip suggests putting a door mat on the outside and inside of the front door to keep shoes from tracking chemicals like pesticides into the home. Another tip advises consumers to choose a shower curtain made from quick-drying nylon or polyester instead of vinyl to lower their exposure to hormone-disrupting phthalates. All the while, the app tracks and rewards users' progress as they make changes to "detox" their environments.
The app draws on 20 years of research by Silent Spring Institute on the health risks associated with everyday exposure to harmful chemicals. For instance, our household exposure studies have shown that high levels of flame retardants and other consumer product chemicals collect in house dust and indoor air, and ultimately end up in people's bodies. In our consumer product testing study, we discovered that many consumer products contain a wide range of toxic chemicals not listed on the product's label. And Silent Spring's food packaging study demonstrated that switching to a fresh food diet without canned or prepared foods can substantially lower the levels of two hormone disruptors—BPA and DEHP (a type of phthalate)—in people's bodies.
Adding to this body of research is overwhelming scientific evidence linking chemicals in our environment with cancer and other health effects. More than 200 chemicals so far have been shown to cause mammary tumors in animals and numerous studies have linked exposure to environmental toxics with an increased risk of cancer and other diseases in humans.
"What's great about Detox Me is that it gives consumers advice that's based on real science" says Helm. "It synthesizes all this research on the health effects from exposure to environmental toxics, and turns this vast knowledge into practical advice for healthier living."
In addition to reaching out to regular consumers, Helm is also developing relationships with other groups, such as nurses' associations, green builders, and other organizations interested in public health and the environment.
Detox Me is available to download for free through Apple's app store and Google Play for use on iPhone and Android devices. Check out www.detoxmeapp.org.