President's Cancer Panel highlights everyday exposures to environmental pollutants and cancer
May 6, 2010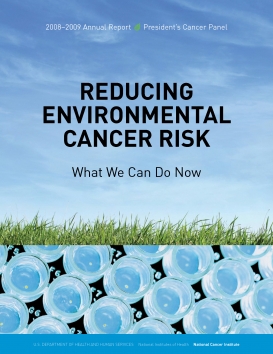 On May 6th, the President's Cancer Panel—a watchdog group of advisors charged with monitoring the National Cancer Program—released a groundbreaking report, Reducing Environmental Cancer Risk, What We Can Do Now.
The report is the culmination of a series of hearings the panel held last year to gather input from experts and the public on the emerging evidence of links between environmental factors and cancer. In previous years, the panel has focused on topics such as lifestyle and treatment; this marks the first time ever the panel has focused on the environment.
"The report highlights the incredible opportunities before us if we re-balance our health investments to increase funding for environmental health research and adopt more precautionary public health policies," said Julia Brody, Executive Director of Silent Spring Institute, who testified at the panel's meeting on air pollution and water contamination.
Resources or References