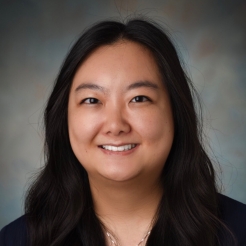 Research Assistant
June Jiao joined Silent Spring Institute as a research assistant in January 2021. Her work focuses on understanding the human health effects of PFAS contaminants in drinking water. She also coordinates Silent Spring's PFAS health study in two communities in Massachusetts—Ayer and Hyannis—as part of the Centers for Disease Control and Prevention (CDC) and the Agency for Toxic Substances and Disease Registry (ATSDR) Multi-site Health Study.
Jiao previously worked as a research lab manager for the Sleep, Health, and Society Collaboratory at Pennsylvania State University where she led a team of research assistants in coordinating multiple NIH-funded studies and was a research analyst conducting statistical analyses of sleep, physical activity, and oximetry data from wearable devices.
She holds a master of public health degree in environmental epidemiology from Brown University School of Public Health. Her graduate thesis examined serum PFAS exposure and cardiometabolic health outcomes in adolescents from CDC's National Health and Nutrition Examination Survey (NHANES). While in graduate school, she received the New England Public Health Training Center Award for co-facilitating Teens Empowered to Advocate for Community Health, an expanded learning opportunity program that provides students with public health tools to empower them to create change in their communities. Prior to attending graduate school, June was also a program assistant for the Every Student Succeeds Act, the national education law and longstanding commitment to equal opportunity for all students.
Jiao received a bachelor's degree in public health from the University of California, Berkeley where she was involved in nutritional science research at the UCSF Benioff Children's Hospital Oakland Research Institute and was also a research assistant for the Nutrition Policy Institute conducting survey research on the Berkeley Soda Tax.
Her passion for environmental health stems from her belief that everyone has the right to be healthy in the communities and environments in which they live, play, and work. She is thrilled to be working with a mission-driven organization like Silent Spring because of its focus on working alongside and supporting communities. Outside of work, you will most likely find Jiao hiking local trails, on the hunt for great coffee or food, or in her backyard crafting.
Projects